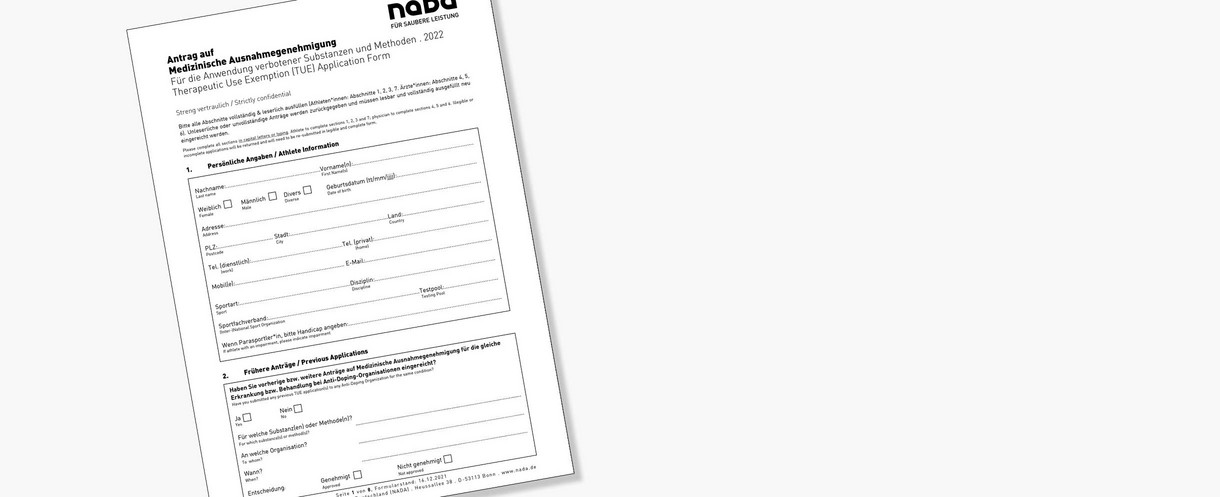 Therapeutic Use Exemption (TUE)
For certain medical conditions, athletes may apply for a Therapeutic Use Exemption for the use of prohibited substances and methods under the World Anti-Doping Code (WADC).
The procedure is regulated for all athletes worldwide in the International Standard for Therapeutic Use Exemptions (ISTUE).
Therapeutic Use Exemption or Medical Certificate?
Test pool athletes and athletes in high leagues of certain team sports always require a Therapeutic Use Exemption (TUE) for the use of a prohibited substance or method, which must be applied for from NADA Germany or the respective international sports federation.
Athletes who do not belong to a test pool or a league that requires a TUE must provide proof of treatment with prohibited substances or methods in the form of a certificate from the specialist doctor treating them at national competitions in Germany. A copy of the specialist's certificate must be presented at a doping control. In the case of the use of non-specific substances and methods, a medical exemption must also be applied for retroactively after a doping control. NADA Germany reserves the right to review certificates at any time and to request further medical documentation if necessary.
National or international?
As a rule, NADA Germany processes applications for Therapeutic Use Exemptions from athletes who compete at the national level or are members of the national testing pool (ATP, NTP, TTP). For athletes who compete at international level or who are members of an international testing pool, the respective international sports federation is responsible.
When should a TUE be applied for?
A Therapeutic Use Exemption for substances and methods banned at any time (i.e., in-competition and out-of-competition) should be applied for as early as possible. For substances prohibited only in-competition, the TUE should be applied for at least thirty (30) days prior to the next scheduled competition. In emergency or rare exceptional cases, a TUE may be applied for retroactively - no later than seven (7) days after the use of the prohibited substance or method.
Note
All medically relevant forms can be found in our download area.
Note on handling permitted substances
If you use substances or take medications that are not on WADA's current Prohibited List, the following applies: Please declare your substances and medications on the doping control form during a doping control. Furthermore, you do not have to inform NADA Germany about the use of permitted substances and medications. An application for Medical Exemption is never made for permitted substances and medications, but only for prohibited ones.